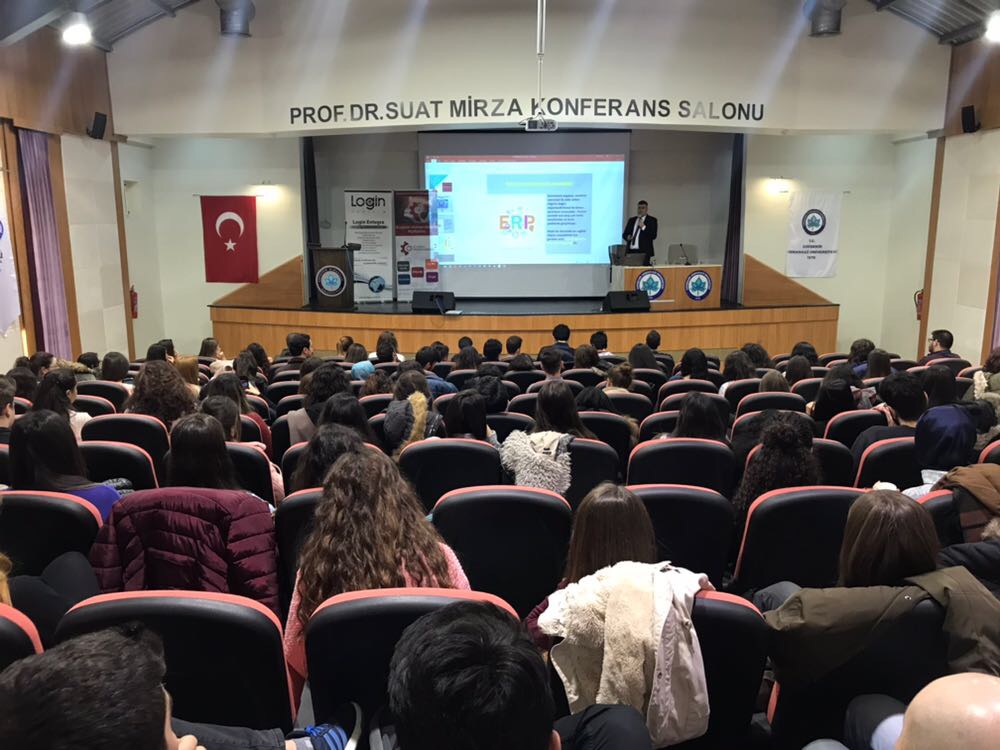 25.01.2018
En-ERP 17 has been Launched at The Eskişehir Osmangazi University
En-ERP 17® ,17th of the En-ERP® events, organized by Eskişehir Osmangazi University Industrial Engineering Student Group (EMÖT) with the collaboration of the Login Software and Industrial Engineering Platform was conducted on Thursday, 28 December 2017 starting under the motto "'There will be no engineering students left who graduate before seeing ERP software!"
During the event which was realized with broad participation thanks to the devoted works of the team of Eskişehir Osmangazi University Industrial Engineering Students Group (EMÖT); Mehmet Bayrakdar, Eurodecor ERP Manager gave valuable information about the benefits provided by ERP software to the enterprises while descending into the particulars of the ERP concept. Providing an overview of the ERP modules, Mehmet Bayrakdar , also shared statistics related to the general average of numerical improvements in enterprises which has implemented ERP.
After the presentation of Mehmet Bayrakdar, Business Solutions Manager from Login Software Ahmet Savaş Göktürk shared with the students his presentation, prepared with special photographs, about the business processes, which consists of including from raw material entrance to production band, packing, storage and dispatch, of an enterprise active in the manufacturing sector. Subsequently he shared with the students, the entire work flow from order to production including variable order entry, order approval process, purchasing, inventory management, production planning, product trees, work orders, workstations, operations and roots through the Login ERP® software. Right after the realization of Login ERP® live demo, Ahmet Savaş Göktürk enlightened the students about what is Business Intelligence (BI), what does it do, what is its importance and at the same time he provided in his presentation real dashboard screens about Order, Order detail, Invoice, Accounting, Cluster Analysis to the observation of the students.
After the realization demos through ERP and BI, Ahmet Savaş Göktürk, who also prepared and performed two exams that can be accessed via smart phones, created a good perception on the students and ensured quality listening, as well as, taking the reports of the two exams from the system instantaneously, he started the process of preparing the Certificate of Achievement for delivery to the students who got 75 points and above from the both exams.
Following the presentation of plaques prepared by the Industrial Engineering Students Group (EMÖT) and signed by Sergen Orhan, Chairman of the Board of Directors and İslam Altın, Club Advisor Research Assistant to Mehmet Bayrakdar and Ahmet Savaş, in the visit paid to the ACD Data Processing and Innovation Engineering Companies located in Eskişehir Osmangazi University Teknopark in company with EMÖT, brainstorming was done about collecting data from production and robotics works together with Ertul Erözdemir from ACD Data Processing and Uğur Yayan from Innovation Engineering.