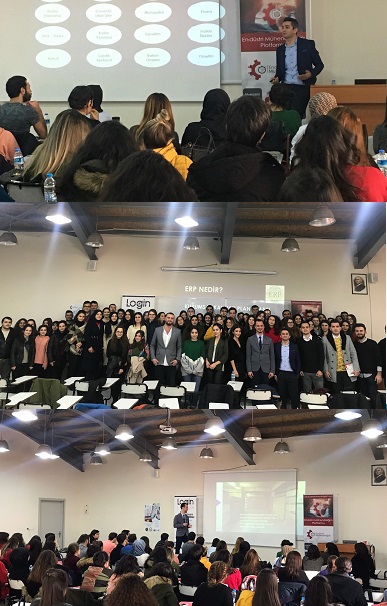 06.03.2018
En-ERP 18 has been Launched at The Beykent University
"En-ERP 18®, the eighteenth leg of En-ERP® events and launched through the joint forces of Login Software and Industrial Engineering Platform under the motto "'There will be no students left who graduate before seeing ERP software" was held on February 13th, 2018 (Tuesday) with the organization by Beykent University Industrial Engineering Club."
During the event where high participation was achieved thanks to intensive and devoted efforts of Reyhan Kılıç, Head of Beykent University Industrial Engineering Club, Safa Varol, Vice Head of Beykent University Industrial Engineering Club, and Havva Nur Topaloğlu, Board Member, Hasan Bartınlı, IT Manager of Eren Holding, started his presentation with the relationship between departments in the company and ERP concept and gave examples of Login ERP screens used in Eren Holding. Hasan Bartınlı also shared his experience with the students about issues such as ERP software selection, ERP team identification, management support, flexible working schedule and good project management.
Following the successful presentation by Hasan Bartınlı, Ahmet Savaş Göktürk, Business Solutions Director at Login Software, shared with the students his presentation featuring special photographs on the work processes of an enterprise operating in the manufacturing industry and exemplary machinery, starting from the raw material input with barcodes to packaging, storage and transportation, including production band. Also sharing its benefits to enterprises that use hand-held terminals and work processes, Ahmet Savaş Göktürk provided examples to the importance of machinery and ERP integration. Subsequently, the entire work flow from order placement to production, including variable order entry, order approval process, procurement, inventory management, production planning, product trees, work orders, work stations, operations and routes was shared with the students via Login ERP® software. Ahmet Savaş Göktürk, who illuminated the students about the definition and scope of Business Intelligence (BI) , its benefits and its importance immediately after the live Login ERP® demo, also showed real dashboard screens in the fields of Order, Order Detail, Invoice, Accounting and Cluster analysis for the review of the students.
After demos on ERP and BI, Ahmet Savaş Göktürk, who also prepared and applied two tests that could be accessed via smart phones, created a good perception on the students and offered high-quality listening opportunity, instantly obtained the results of both tests from the system and initiated the process for the preparation of Achievement Certificates in order to be delivered to students who got a score of 75 or above.
At the end of the event, plaques signed by Prof. Dr. M. Emin Karahan, Rector of Beykent University and Serhat Batur, Dean of Beykent University, were presented to Ahmet Savaş Göktürk ve Hasan Bartınlı and Ahmet Savaş Göktürk and Hasan Bartınlı were invited to the Dean's Office of Beykent University with the organization of Reyhan Kılıç and Havva Nur Topaloğlu from Beykent University Industrial Engineering Club, where they discussed in detail with Dean Serhat Butur what kinds of projects can be jointly carried out for strengthening the cooperation between industry and academy and the road map for setting up Login ERP Laboratory and incorporating Login ERP® courses to the curriculum of Beykent University was developed.