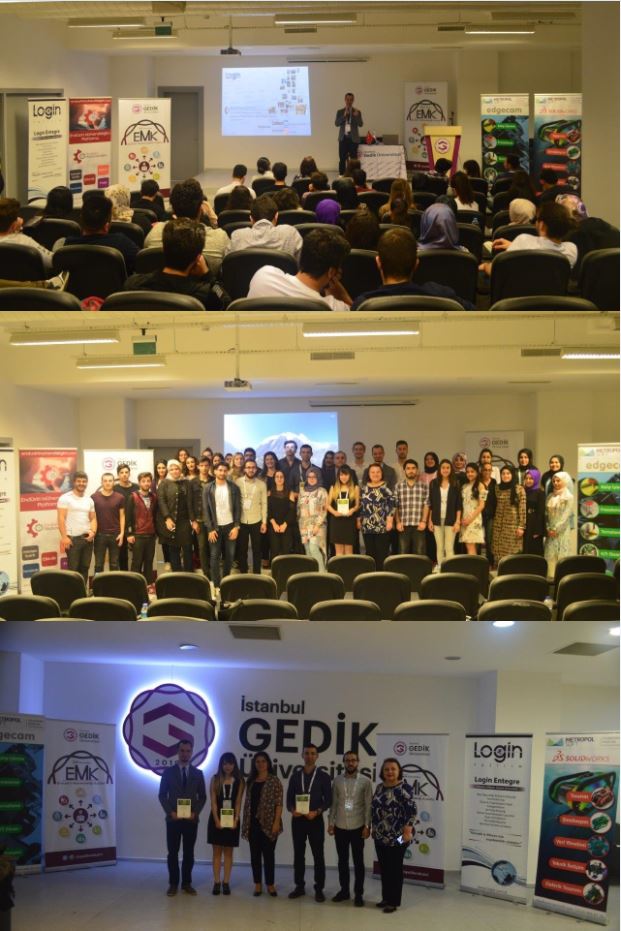 09.05.2018
En-ERP 34 has been Launched at The Istanbul Gedik University
En-ERP 34®, the thirty fourth leg of En-ERP® events and launched through the joint forces of Login Software and Industrial Engineering Platform under the motto "There will be no industrial engineering students left who graduate before seeing ERP software" was held on April 26th, 2018 (Thursday) in İstanbul Gedik University Faculty of Engineering with the participation of the Rector, faculty members and students from the Department of Industrial Engineering and students.
During the event organized thanks to intensive and devoted efforts of Mücahit Aydoslu, Head of Industrial Engineering Club in Istanbul Gedik University and his team, Pınar Çatak, Metropolsoft PCB Application Engineer, Kemal Yılmaz, Mecatronics Engineer and Ahmet Savaş Göktürk, Business Solutions Director at Login Software, attended the event as speakers.
Pınar Çıtak and Kemal YILMAZ talked about technologies such as SOLIDWORKS, Edgecam, SolidPlant, Swood, DELL Work Stations during their presentations. They presented all digital modeling, 3D design processes, and CAD/CAM and CAE software required for CNC machines are available for review by students.
Following the presentations by Pınar Çıtak and Kemal YILMAZ, Ahmet Savaş Göktürk shared with the students his presentation featuring special photographs on the work processes of an enterprise operating in the manufacturing industry and exemplary machinery, starting from the raw material input with barcodes to packaging, storage and transportation, including production band. Also sharing its benefits to enterprises that use hand-held terminals and work processes, Ahmet Savaş Göktürk provided examples to the importance of machinery and ERP integration.
Subsequently, the entire workflow from order placement to production, including variable order entry, order approval process, procurement, inventory management, production planning, product trees, work orders, workstations, operations and routes was shared with the students via Login ERP® software.
Also talking about IOT technologies in a part of his presentation, Mr. Göktürk also illuminated students with examples of PLC, HMI, MES, Scada and APC from sensors and machines depending on the Industry 4.0 pyramid.
Ahmet Savaş Göktürk, who illuminated the students about the definition and scope of Business Intelligence (BI), its benefits and its importance immediately after the live Login ERP® demo, also showed real dashboard screens in the fields of Order, Order Detail, Invoice, Accounting and Cluster analysis for the review of the students.
During the closing speech delivered by Prof. Dr. Zafer Utlu, Rector of Istanbul Gedik University, he said "We have assumed the role of our lecturers. In 2030, you will be assuming our role in the university. Nowadays, the wind of Industry 4.0 is blowing fast. We unfortunately missed Industry 1, Industry 2 & 3 but we have to keep pace with Industry 4.0. You have to follow the technology closely. The years you spent in the university should not only involve courses and exams; it is very important that you participate in such events as well. You may not get these opportunities in the business life". He also noted "Industrial Engineering Club is doing what's expected of any other club. Thus, it has already cemented its place among the most successful and popular clubs in terms of student activities".
The event was completed after a souvenir photo was taken and plaques were presented to the speakers.