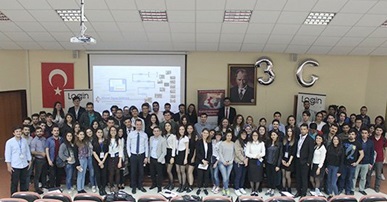 08.05.2017
Istanbul University students has Met with Login Software
En-ERP® 5, which is the fifth of the En-ERP® events that began with the cooperation of Login Software and Industrial Engineering Platform with the slogan of "There will be no students left who graduate before seeing an ERP software!" was realized on Wednesday, April 26th, 2017. The organizer of the event was İstanbul University's Industry and Quality Club.
In the event that attracted a high number of participants, Information Technologies Manager of Eren Holding Hasan BARTINLI performed a comprehensive presentation titled "What is ERP?" regarding the decision process of ERP investments and ERP project management. Business Solutions Director Ahmet Savaş GÖKTÜRK from Login Software shared his presentation on the business processes of a factory operating in the manufacturing industry with the students. The presentation included special photos of the business processes which included raw material entry, production, packaging, warehousing and shipping. Göktürk also shared the entire process that begins with the ordering of a bedroom set and ends with its production, with the students by performing the related transactions on the Login ERP® software on the spot. The bedroom set in question consisted of a bed, a nightstand, a 2-door wardrobe, a make-up desk, and a work desk and it had a product tree which included 21 variables and 124 levels. Ahmet Savaş GÖKTÜRK also conducted 2 mini tests which he had prepared on the internet and which could be accessed through mobile phones. Gokturk ensured the students to pay attention to him by creating a positive influence on them. He also took the result reports of the 2 tests from the system right then and there and sent them to the founder of the Industrial Engineering Platform, Bahadır KAYA so that the Certificates of Achievement could be prepared.
At the end of the event Ahmet Savaş GÖKTÜRK and Hasan BARTINLI were presented with certificates of sapling donation by The Turkish Foundation for Combating Soil Erosion, for Reforestation and the Protection of Natural Habitats.
12 students were provided with the opportunity of a 2 day ERP training at Login Software by means of a special draw that was made after the certificates of participation were handed out.