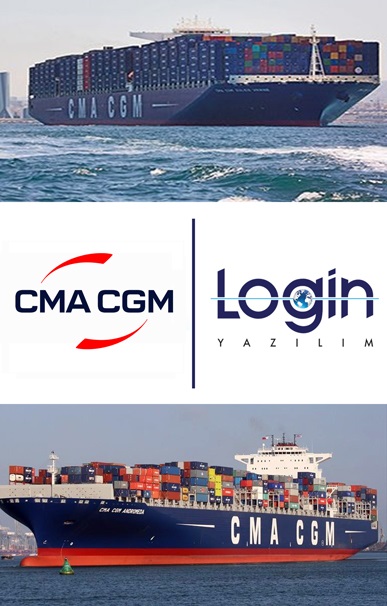 05.02.2016
CMA CGM Turkey Manages its HR Processes with Login HR Solution
CMA CGM Group, one of the world's leading logistics companies with over 22,000 employees in 160 countries in marine transport and logistics, manages its HR processes for its operations in Turkey with Login Integrated HR solution.
Ms. Işıl Durukan Ulusoy, HR Manager of CMA CGM Turkey, answered questions of ERP NEWS about digitalization of HR processes. ​
What is the position of CMA CGM in Logistics Industry?
Işıl Durukan Ulusoy: Transportation has never been this important in global trade where technology increased, distances shortened, commodities diversified and quantities increased. Inexpensiveness of costs, amount of commodity transported and security are the most important factors in transport. Today, marine transport has become more preferable than other types of transport in terms of these abovementioned factors. Marine transport account for approx. 90% of global trade. The total size of global marine trade fleet has reached 1.23 billion DWT while global trade volume reached 8.17 billion tons. Approx. $400 billion revenue is generated on a yearly basis from global marine trade.
With its head office in Turkey, CMA CGM is the world's third biggest ship owner and has been offering for many year shipping agency services as a 100% foreign-invested Turkish company. Our company that has a big share in logistics industry in terms of added value, employment and investments, our company has over 150 employees in Turkey.
Why did you choose Login Integrated HR?
Işıl Durukan Ulusoy: Our company is rapidly growing and Login allows us to use a fast, reliable and integrated system for the effective management of HR-related processes. It substantially increased productivity of HR Department. Being easy-to- use for users is another important factor. Proper analysis of corporate needs and continuous development of program in this direction strengthens our satisfaction.
What are the modules when you use Login Integrated HR and what advantages does it offer you?
Işıl Durukan Ulusoy: As CMA-CGM, our company uses both remuneration and leave module in Login Integrated HR.
How did Login support you both during and after the installation of application?
Işıl Durukan Ulusoy: While the number of options before customers is increasing as national boundaries are eliminated and the world is becoming a single market, the differences in expectations are decreasing. Thus, what lies beneath success is the ability to offer tailored services to customers to meet their overall expectations. We had similar expectations with other companies when we started to work with Login. Login was always with us during installation and subsequent processes, the concerned expert employees frequently visited us and supported us through trainings. They made a difference for us with these approaches. They always make us feel this support.