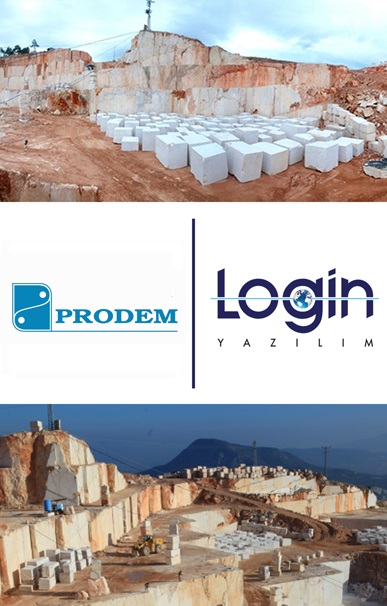 19.07.2016
Login ERP was the Choice of Prodem from Mining and Marble Industry
Marble industry is one of the challenging industries that offer a wide range of products and have specific production techniques and require many production analyses to be conducted for ensuring compliance with legislation such as efficiency of marble blocks etc.
Offering engineering solutions and consultancy to its international customers with regards to the supply, production and global marketing of Turkish materials, Prodem that was founded in 1986 and is equipped with valuable experience gained from mining pits will launch a tailored project with customized adaptations for the industry to basic business processes such as Accounting, Sales, Procurement, Stock, Production, Actual costing and Export with Login ERP.
The fact that marble is not a standard product will be one of the major issues that Login ERP and Prodem will focus on in the project. Since marble is not a standard product, it is vital to manage selection information such as type of stone, surface shape, quality, width, height and thickness via ERP. It is possible to say that Login ERP will also establish the necessary structure that can handle this information during Customization Consultancy.
It will be possible to track the product crafted from the block, sub- product and wastage via Login ERP and all reports will be instantly accessible.
Additionally, an effective stock management will also be one of the focal points of Login ERP. For example, it will allow separate tracking by serial number of factory and pit block stocks, height, width, ST/ gangsaw, year of production etc.